HELLO. THIS PAGE NEEDS MORE CONTENT ABOUT THIS CHARACTER. IF YOU WOULD LIKE TO HELP OUT, 
Yukio Tsuchida (Old Man)
The old man's sprite
Gender
Male
Age
50+
Occupation
Unknown
Fate
Unknown
Relationships
Tsuchida Family
PLEASE EDIT THIS PAGE IF YOU KNOW MORE ABOUT THIS CHARACTER.
"Haha... Rich enough to be ashamed of the state of this old place, perhaps."
-Old Man
The Old Man (老人 Rojin) is the person who offered the group to stay in his house, and is often depicted as the villain.
Appearance
Edit
The Old Man wears a red beret and a white shirt under a sleeveless beige/brown vest, black pants and brown shoes. He wears glasses and also has grey hair.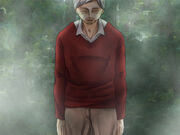 Personality
Edit
Kind and considering who also knows how to live on his own. He offers the main characters a place to stay after their car breaks down. He also offers a lot of knowledge about the mansions and the surrounding area.
It is later revealed that because of his fascination with the mermaids (something passed down throughout the men of the family) he was not able to save the corpses. So when he saw the broken down car and the main characters he decided to use them to save the corpses, making them do the work that he was unable to. As a result his original intentions to save the corpses were good, but ended up hurting the 4 characters, despite the ending.
The Old Man shows up near the beginning of the game, after the main characters' car breaks down. He shows up before Rin, offering her and her friends a place to stay for the night. He says that he is the landlord of the area, so he has enough room. He shows them to his house and to their rooms and proceeds to make them dinner. The following day he informs Rin and the rest that he has to leave for a memorial service and will be out for a few days. He allows them to stay in the house, claiming he needs someone to look after it for him while he is gone. As he is leaving he tells Rin that she shouldn't go wandering around in the mountains. 
In a certain ending ("Yaobikuni"), he is painted as a villain, initially shocked to have found Rin still alive, and then that she had eaten the 'mermaid', though he then allows her to freedom due to the fact that she has gone insane. As he led the way out of the underground tunnel he proceeds to tell her a new story. It seems, within the context of what's happening, that he is making up the story to fit Rin's new situation.
In the end "Underwater Dream" his name is revealed to be Yukio Tsuchida, the man with whom Saeko Kawamoto corresponded.
Nicknames
Edit
Old Man (what he goes by)